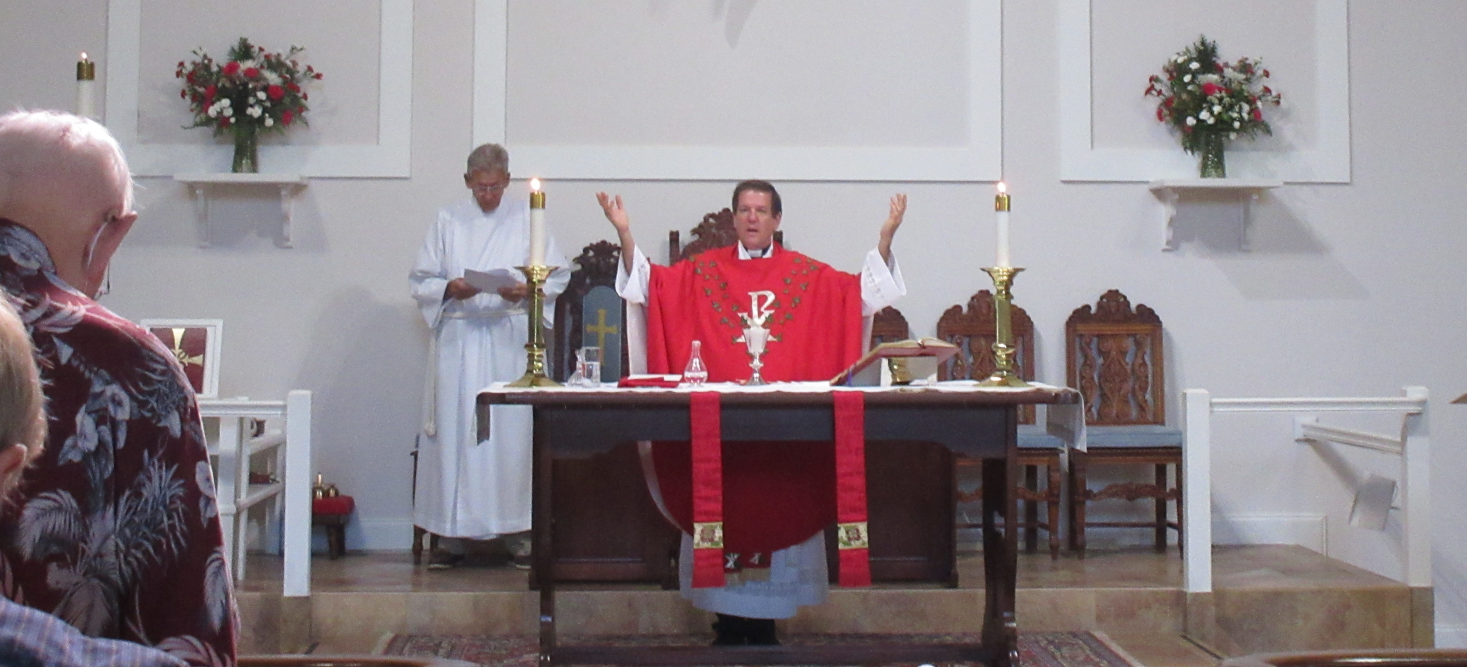 We follow Jesus Christ...
...whether we stay at home or join in public worship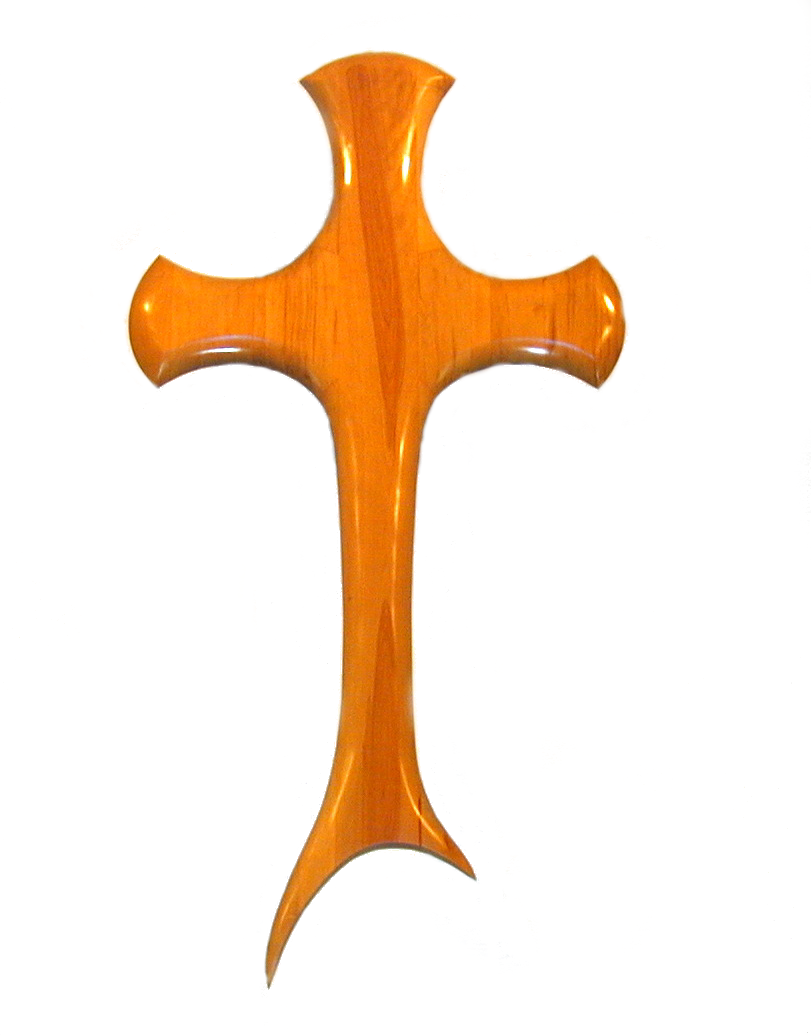 All are welcome to join us in person Sunday mornings at 8 or 10 a.m. Please follow the latest recommendations of the CDC to keep yourself and your neighbors (i.e., every human being) safe.
Otherwise, join us at 10 a.m. Sundays on YouTube, using your smart phone, computer or television set, by clicking here
Here is the bulletin for Sunday, Jan 30
To learn about our worship service and about the Episcopal Church, click here. And click on that shelf of red books to get a short, cute introduction to our time-honored Book of Common Prayer.
Click here for the on-line Book of Common Prayer
Click here for Scripture Readings
Concert Feb. 15: 'Great American Songbook'
Sacred Ground Series
This is a series of videos, readings and small-group discussions about race. This is highly recommended if you have questions about "critical race theory," a topic needlessly politicized. To watch an introduction, click here.
Five questions of baptism
Fr. Tom delivered a workshop for the Diocese of Southwest Florida entitled, "Baptismal Covenant: Five Questions." It can be viewed by clicking this link any time. Fr. Tom is well acquainted with the sacrament of Baptism, as he focused on it in the pursuit of his doctorate from Seabury-Western.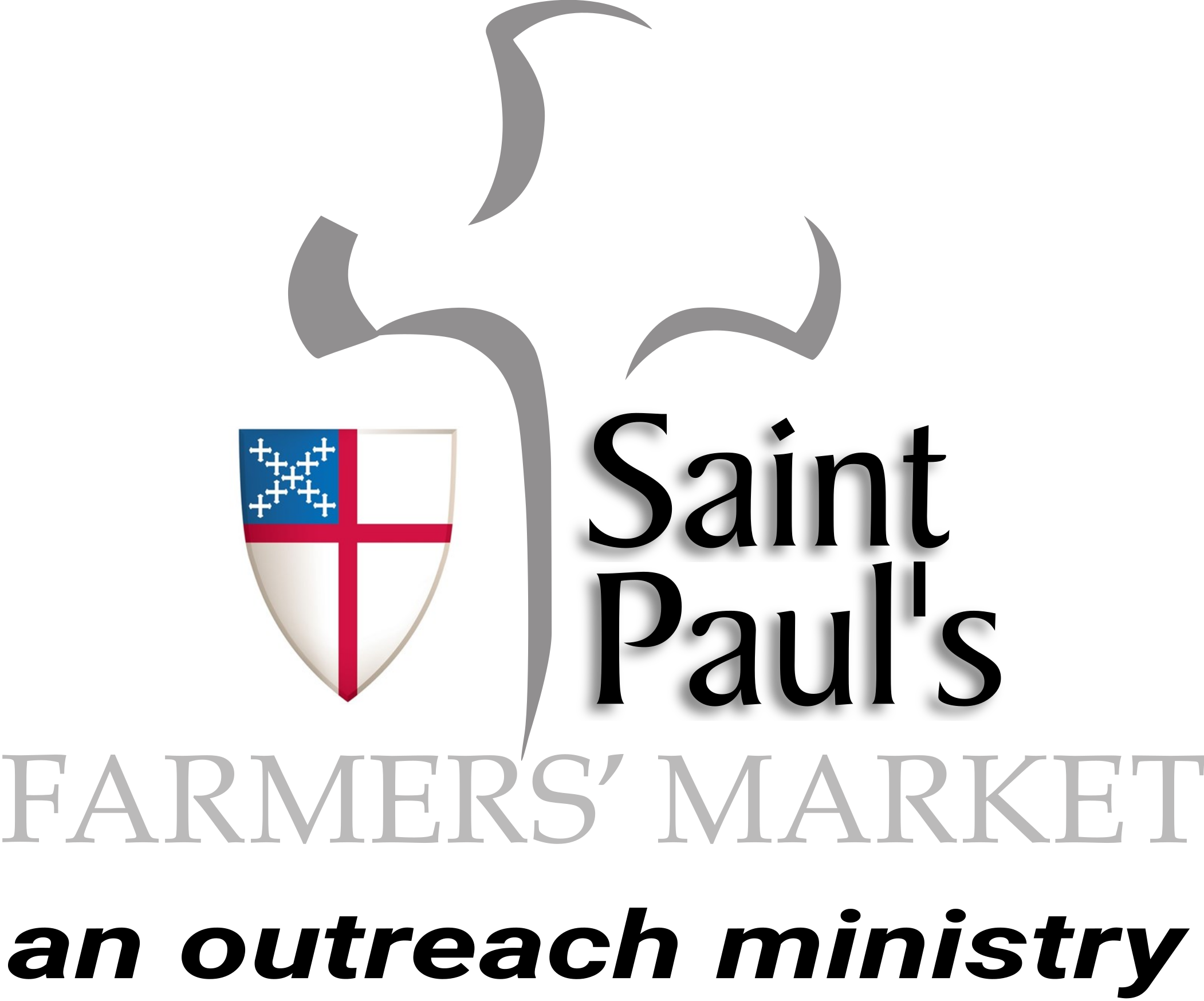 Home of the great Farmers' Market
(The market will not be open Christmas or New Years days)
Welcome to the easy in-and-out St. Paul's Farmer's Market! Stop by the hospitality pit and introduce yourself to new friends and have a hot dog, on us! The market is now open, through next April, Saturdays from 8 a.m.to noon. Browse and buy books, jewelery and lots of produce.
For more information about the market, click here.
Supporters of these children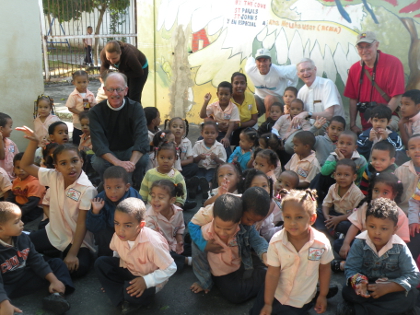 Episcopalians of the Naples Deanery have been supporting the children at a shelter in the Dominican Republic for the last 18 years. The Albergue el Buen Samaritano in San Francisco de Macoris, serves a hundred children who would be on the street were it not for the shelter. The kids arrive for breakfast, learn their abcs and social skills and get lots of love that may otherwise be missing in their young lives. It is a ministry of love and affection, above all.
Supporters of Tumaini Fund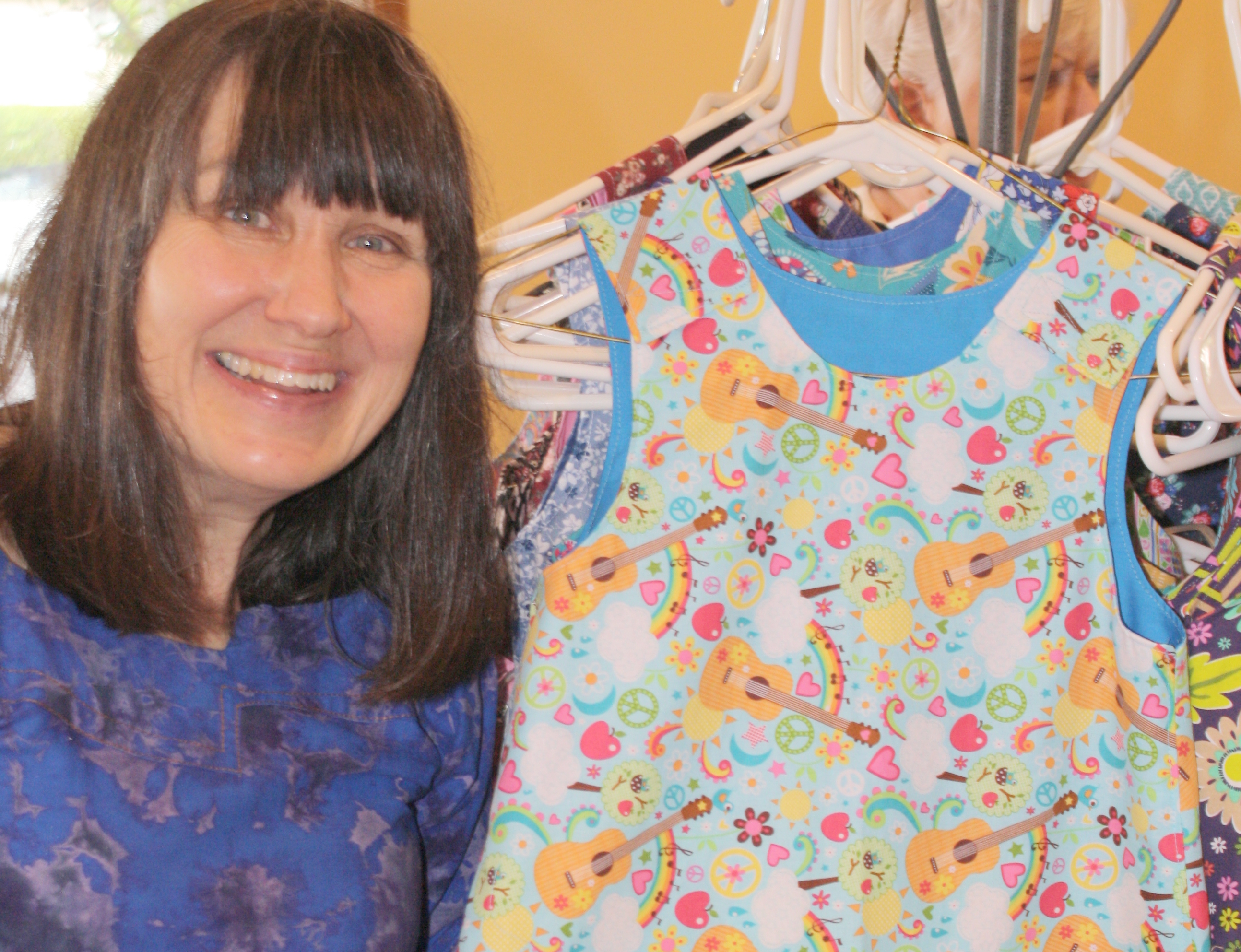 Dr. Susan Wilson, an English family physician, is full of energy and zealfor the Lord. She founded Tumaini (the word means "hope") Fund to put her faith to work in the AIDS-ravaged Kagera region of Northwest Tanzania. There she established an orphanage for thousands of children who lost their moms and dads to AIDS. In addition to monitary contributions, the ladies of our church, the ECW (Episcopal Church Women) have sewn numerous dresses, as seen here with Dr. Wilson.
Parishioners Mike Moore and Roger Conant are directors for the fund in the United States.
Supporters of 'ERD'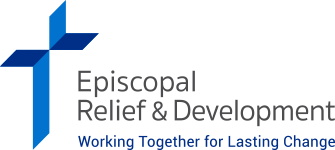 Episcopal Relief and Development is a charity you can trust to use your resources wisely and lovingly. Click the logo above to learn more and make a donation.
Wednesday, January 26, 2022

All the links
Sunday worship service, 10 a.m. Stream on your smart phone, computer or television. Subscribe to our YouTube channel using this link.
Wednesday evening bible study, 6:30 p.m. For the next several weeks we will be examining the meaning and impact of certain words in the Bible. Join us in person in the library or through the internet.
Thursday wine time, 5:30 p.m. This is a popular and relaxing chat room open to everyone who wishes to join in. Usually called "Thursday wine time," it's on Friday when the vestry meets, usually on the third Thursday of the month.
Join us for coffee after the Sunday morning worship service. It's a time for fellowship and to meet new friends. Parishioners bring snacks to share, and there's always plenty for everyone.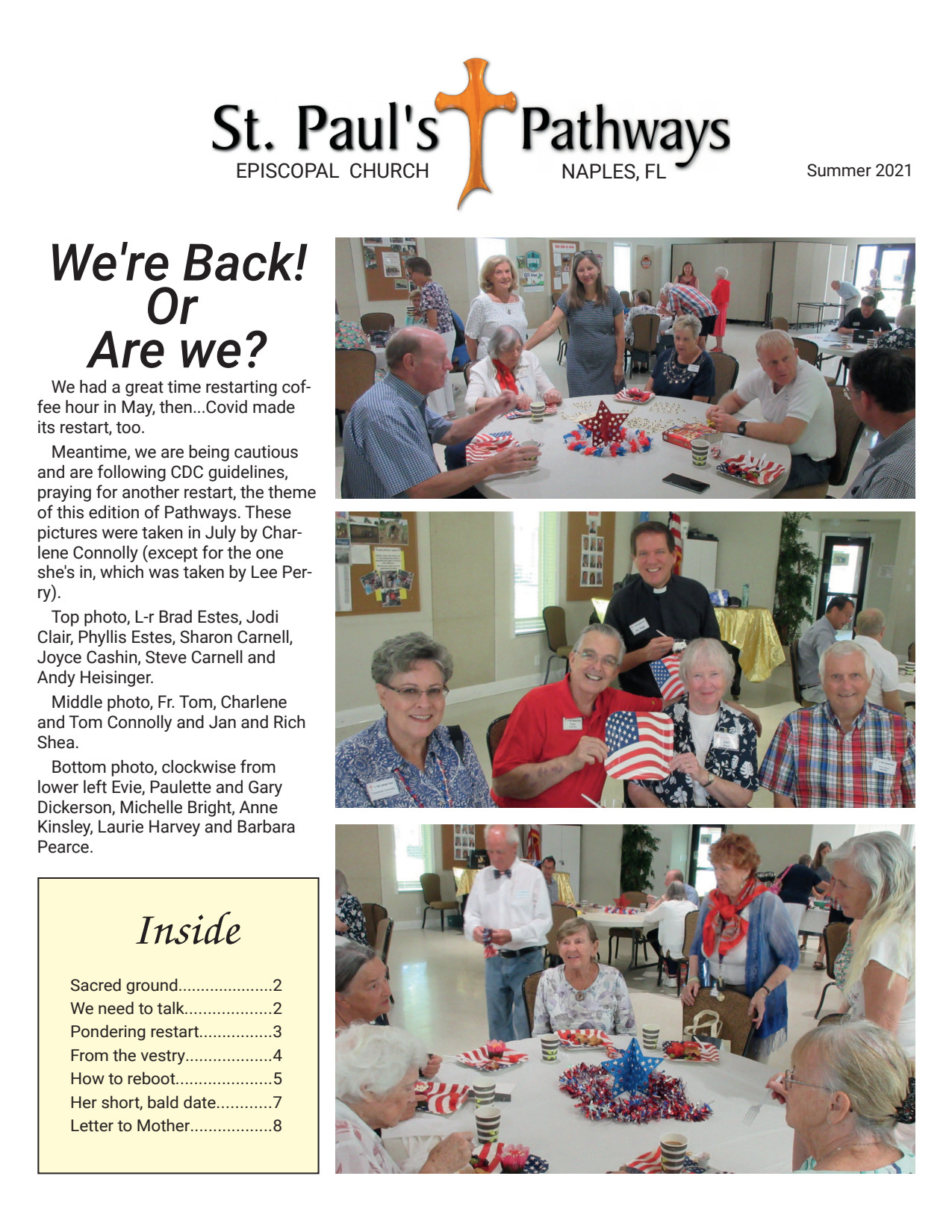 New Pathways available Click on the image above to read or download the latest edition (August 2021) of Pathways, the parish newsletter.
Previous editions of Pathwayscan be found here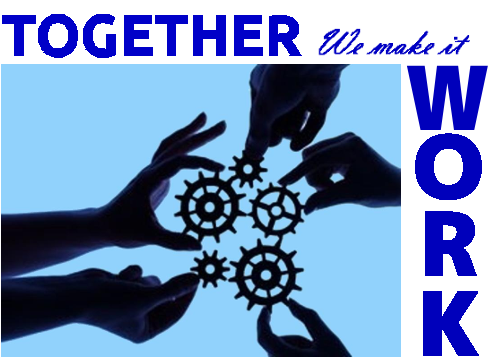 There's a place for you to exercise your ministry at Saint Paul's! We are the hands and feet of the Risen Lord in the modern world that is in great need. Some of our ministries are listed here.
Wearing your name tag is an act of hospitality! We want visitors and our members to feel comfortable at services and coffee hour. If you don't have a name tag, call the office during the week to get one.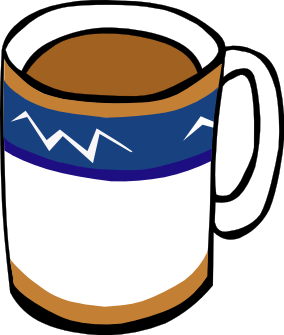 Get the Weekly Update in your email box by signing up here.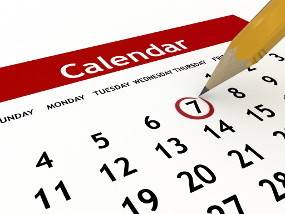 Click calendar to see our activities
Episcopal News Service
[Episcopal News Service] Executive Council opened its latest meeting Jan. ...5 by highlighting a broad swath of issues confronting the church, including voting rights advocacy, the financial impact of the [.....................]
[Anglican Communion News Service] The Province of the Episcopal Church of South Sudan has been under attack in Bor Town, Jonglei State, according to a statement released by the primate, [.....................]
[Anglican Communion News Service] Archbishop Titre Ande Georges has been installed as the new primate of L'Eglise Anglicane du Congo (The Anglican Church of the Congo). He was installed on [.....................]
[Lambeth Conference] A decision has been taken to discontinue plans to run the official hospitality program (also known as the Big Hello) for the Lambeth Conference in its current form. [.....................]
[Episcopal News Service] An Episcopal church in Orlando, Florida, is offering free COVID-19 tests at night to meet the needs of neighbors who can't make it to daytime clinics because [.....................]
[Episcopal News Service] Congregations across The Episcopal Church have long supported efforts to help people who are homeless, whether they are looking for a place to stay, a nourishing meal [.....................]